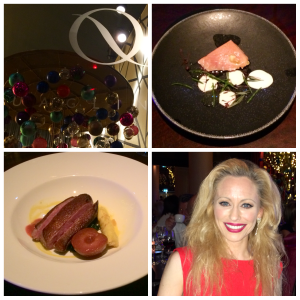 Quaglino's. A Mayfair classic – and busy venue of choice during the holiday period. Yet two intrepid food combiners still went in search of two opposing food combinations, and our culinary wishes were met – with a dash of live music.
We were seated near the stage with two glasses of Veuve Cliquot as the evening's entertainment got underway. My companion opted for carbohydrate-based dishes, and a starter of celeriac velouté, curried apple and sorrel salad was an unexpectedly tasty pleasure. It was followed by a fine winter shaved truffle risotto, without the 20-month aged parmesan to maintain a carbohydrate base.
In contrast, I went with protein-based dishes, and my starter was the delicate confit of wild salmon, with oyster leaf yoghurt, lemon gel and dill oil. My main course was duck breast with celeriac fondant, chili and almond tossed kale, and plum compote, which the staff were at pains to ensure was cooked to choice.
For me though, the highlights of the night were the opulent venue itself with its buzzing society ambience, our extremely attentive but unobtrusive waitress, and the wine – a superb Meurseult to complement the dishes, venue and champagne that encircled it. And the entertainment (who sat next to me).
An appropriate way to say farewell to a memorable year – and set the benchmark for another one.
Quaglino's
16 Bury Street
London SW1Y 6AJ
http://www.quaglinos-restaurant.co.uk/
Reservations: http://www.quaglinos-restaurant.co.uk/book-a-table/
Telephone: 020 7930 6767