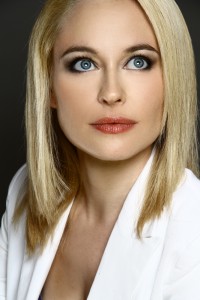 Kate is a news anchor and correspondent at RT in Moscow, and previously presented the SpoRT Show. She is also a qualified personal trainer and producer of the Reverse Time Machine lifestyle website.
She started out in journalism on the sports desk at the Daily Mail and then freelanced for Femail. Moves to ITV and Chelsea TV followed before gaining a postgraduate diploma in broadcast journalism from Cardiff University.
Kate went on to work for sports production company IMG, and freelanced at Setanta Sports News and the Daily Mail Online before joining RT as a sports presenter in 2009.
She left Moscow in 2014 to go freelance, working at talkSPORT and Sky Sports among others, while qualifying and working as a fitness instructor and then as a personal trainer. She returned to Moscow in February 2017 to become an RT news anchor before moving to RT UK in September 2018.
Kate was educated at King Edward VI College, the London School of Economics and King's College London. She is a REPs registered fitness instructor and personal trainer, and a qualified teacher of English as a foreign language.
Her spare time is spent writing and researching, exercising, watching football and comedy, and socialising.
The initial inspiration for exploring time-reversing regimes came from her grandmother, who was diagnosed with advanced pancreatic cancer and given two weeks to live. The 68-year-old lady immediately stopped smoking, went on the food combining diet and read the work of the late spiritual healer, Louise L. Hay. She went on to live for another 18 months.
Kate became convinced that we are what we eat, think and do, and began to follow a similar lifestyle plan. Over the years, she has also included exercise and beauty regimes, with the emphasis on them being enjoyable and economical.
Now, in financially challenging times, with an ageing population and increasingly expensive and debilitating health issues, she hopes that these ideas – and the inspiring stories of other people – will help everyone enjoy a fit, healthy and prosperous not-so-old age.
And you can see all her other work at katepartridge.co.uk