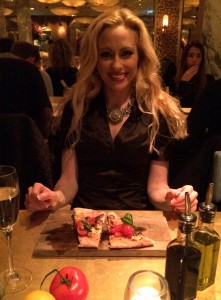 I love all things Italian, and especially the food. Natural, fresh, colourful, tasty and healthy ingredients, served in satisfying portions by enthusiastic staff in a convivial (and romantic) atmosphere. And then there's the aperitivi, wine, minerals, coffee, desserts… Bliss.
And as a food combiner, eating out is a breeze as Italian dishes are traditionally served separately: appetisers, pasta, meat, fish and vegetables. Also, there isn't a great deal of mixing proteins and starches, with pizza the obvious exception. Bruschetta or focaccia with olive oil and balsamic vinegar are a couple of fantastic carb-based alternatives. And additional Parmesan can also be avoided.
With all this in mind, I opted for dinner at Cicchetti's in Covent Garden. The venue is part of the San Carlo Group of authentic Italian restaurants, and has recently been joined by celebrity chef Aldo Zilli.
So, my companion and I optimistically headed to the centre of town to share a fusion supper of Italian tapas. And, after being comfortably seated in the centre of the cosy, buzzing, candlelit restaurant, and immediately ploughing through some homemade bread with olives and tapenade as we scanned the menu, we stayed with the carb-based theme.
Personally, I think menus should be like CVs: one or two pages at most. Anything longer, and I find myself glazing over and swiftly asking my fellow diners for ideas I can pinch. Cicchetti's does offer a wide choice, but on one big food-category-based page plus a few specials, which doesn't befuddle the hungry, indecisive or impatient.
Our choices were excellent in preparation and taste, and very filling of portion: bruschetta with yummy Sicilian Pachino tomatoes, garlic and basil; the surprisingly light purple cauliflower fried with onions, breadcrumbs and garlic; grilled aubergine with mint chilli and garlic (without the buffalo mozzarella); a delicate special of tagliatelle with butter sauce, garlic and black truffles; and a magnificent pumpkin risotto – in the middle of the small, tender-fleshed pumpkin itself – with a few more truffles. Delicious, and a delight to digest.
All this was accompanied by Prosecco, sparkling mineral water, and that relaxed, happy, well-fed feeling that children normally have after a Sunday at Grandma's.
So, in Facebook terms, Cicchetti's was a big "like." Great food, great service, great atmosphere and great value for its central location. And there were plenty of Italians there. That says it all.
Cicchetti Covent Garden, 
30 Wellington Street, London WC2E 7BD
http://www.sancarlocicchetti.co.uk/
Telephone: 020 7240 6339
Email: Cicchetti.coventgarden@sancarlo.co.uk
Open seven days a week, 8am – 12am,
 including bank holidays